Just had an insightful lesson in Tai Chi from Hershey.
A lesson in how to sink your Chi effortlessly (how to become more grounded).
There were no words spoken. I simply lifted Hershey up of the ground and she demonstrated how 'to sink the chi.'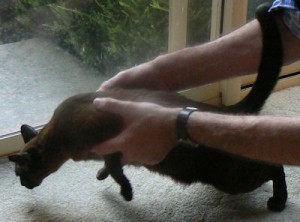 Hershey the cat (pictured) is a Tonkinese.
You see, when I try and pick Hershey up, she automatically sinks her body to the ground. But she only sinks according to how much effort I put into lifting her. If I pause she pauses, if I lift she sinks.
Her movements and stillness are similar to the the feelings I get when I do Push Hands with a human. Only with Hershey those feelings are somehow more sensitive and alive.
Maybe I should Push Paws with Hershey and learn even more.
I'm sure she will teach me (because I feed her).