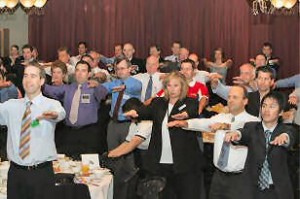 Our short energizer sessions for conferences are  fun and entertaining. They're drawn from Tai Chi and are a great way of energizing participants so they stay focused and get the full benefits of what your event has to offer.
Our energizers range from 5 minutes to 15 minutes and you can choose as many segments up to a total of 30 minutes per morning or per afternoon.
The energizers have been designed for conferences held during the day.
Interactive and ideal for all ages and fitness levels.
Flexible Formats
as an energizer to kick start the conference
before or at the end of a breakout session
after lunch energizer
end the conference on a high note
or anytime during the day to lift participants energies.
Additional Benefits
contributes to a memorable conference
promotes networking opportunities
great take home value
enhance your reputation as an organiser
Plus …
As an added value I can tailor the energizers to reinforce the following themes:
just for fun
wellbeing
lifestyle management
performance improvement
leadership skills
teamwork
motivation
Bookings
Contact us now to book your program.

Thanks for your dynamic and entertaining Tai Chi energizer presentation you delivered at our recent international conference. Your unique 30-minute morning energizer session plus the shorter energizer segments held after lunch and late afternoon were ideally placed and revitalised our audience on the last day of the conference. We were also impressed with your efforts in welcoming our European and Asian guests in their own languages.
Helmar Zangrel