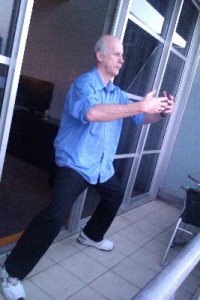 I train at least six times a week for about 1.5 hours per day and I consistently achieve my targeted sessions.
But some times when I'm whizzing around running Aged Care Chair Chi or BJ Seminars International (with Sue James) workshops either here in Melbourne, interstate and/or overseas it's impossible to achieve my targets.
However there is one specific training I always do, six times a week. And that's my Tai Chi stance work – both high and low stances.
If I'm on the road they're done early in the morning and evening, usually in a hotel room before I start my day.
For me, stance work is non-negotiable Tai Chi – it must be done.