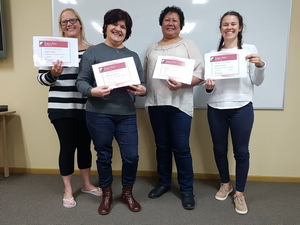 One of my favourite quotes from the 1960s American television show, Lost in Space, was uttered by Dr Smith.
He would often cry 'oh, the pain the pain' when facing a difficult situation. It always provided me with a good laugh.
But it is not laughable when you are the one suffering pain.
Last year I was running our Aged Care Chair Training Level Two workshop which has a Pain Management component and I received positive feedback from a participant. He also provided me with information about two leading researchers in the area of 'pain management' who run conferences called Explain Pain.. Their next conference was scheduled for Christchurch, New Zealand later that year so I decided to attend to learn what the current Western research is on pain management.
While in Christchurch I also took the opportunity to deliver our own first international Aged Care Chair Chi Training Level One workshop after the Ease Pain conference.
Anyway, when I got back from the conference and with the help of my colleague, Sue James, I decided to create a workshop called Ease Pain … the Chi way using practical skills from Tai Chi and Chi Kung (energy work).
This year we launched our first Ease Pain … the Chi way in Sydney and it was well received. We've scheduled more workshops in various Victorian Country areas and interstate and I'm looking forward to our next Ease Pain .. the Chi way workshop in Echuca on the 25th of June. Here's a link to our complete Australian and New Zealand 2018 schedule.
This particular workshop is designed for anyone, not just aged care staff.
So if you find yourself saying 'Oh, the pain, the pain' then come along to one of our workshop and learn how to ease the pain.