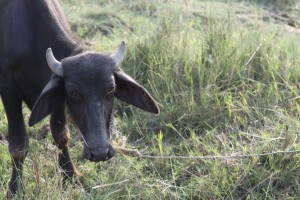 Don't be fooled by this fellow.
In the photo he was on his best behaviour.
I was in Nepal recently for the World Appreciative Inquiry conference where Sue and I delivered our 'Power of AQ/KQ workshop.
After the conference, a group of us travelled to the Chitwan provence, which was a 5 hour drive from Kathmandu.
I saw this calm looking buffalo at one of the villages we visited and took his photo.
On the way back I was about to cross a narrow footbridge when I stopped to take another photograph of the water buffalo who was by now in the creek.
As I raised my camera he started to splash about and came charging towards me.
I did what any Tai Chi person would do.
I used one of the 8 powers.
I retreated. And fast.
To add insult to injury I ended up drenched by the spraying water and no photo.
The classics say '4 ounces leads a 1000 pounds.'
No it doesn't.
When 1000 lbs comes charging at you, forget 4 ounces.
And forget about brush knee twist step.
Just run.
In the opposite direction!