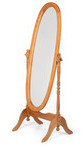 Practicing in front of a mirror is a great way of monitoring the skill you are practicing. It allows you to see if you are performing a technique or movement correctly.
Practice standing in different positions – stand front-on as well as sideways – so you can see different angles.
I still use this mirror practice in my own training and it does make a big difference when you are training on your own.