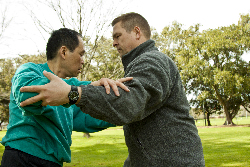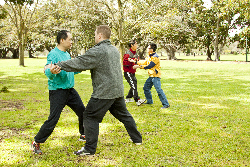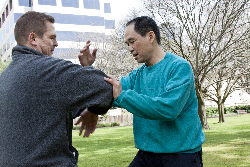 Here are some of the photos of our recent Push Hands in the park session from last Sunday.
The boys are practicing fixed feet free style push hands. For readers who are new to Tai Chi; fixed feet refers to keeping the feet in one position and free style refers to any arm movement that a Tai Chi player prefers to use.
The key Tai Chi principle of relaxation is necessary to practice effective Push Hands.
For safety reasons, in moving free style Push Hands, we generally don't do foot sweeps and/or locks unless both partners agree.
If you are interested in coming along to this free session held every month then check the previous post for details – September: Push Hands in the Park. The next session is on Sunday, 27th October.