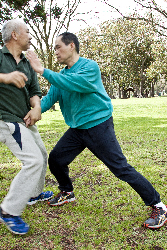 Some more photos from our September Push Hands in the park session; held once a month.
One of the many things I like about our Push Hands sessions is the 'unknown' factor'. I never know what level a new player is until I Push Hands with that person.
Because it's open to the general public and for all levels it's always a pleasure to test my skills against this 'unknown factor'.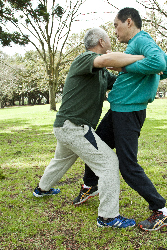 When you Push Hands with the same person on a regular basis there is a sense of predictability in the rythym of the Push Hands workout. But with an unknown you are really tested to use your 'listening skills'.
Our next Push Hands session is on 27th October and you are welcome to come along and test your skills in a friendly environment- check the details here