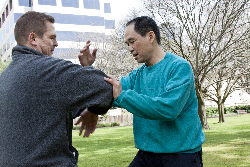 It's been awhile since I've attended the Push Hands in Park session and I'm looking forward to going this Sunday.
I've been extremely busy with the business and there was an overseas trip too that left no time to attend the monthly Push Hands session. I always enjoy going because I learn from experienced and talented Tai Chi players.
If you're interested in attending this regular free session here are the details:
When: Sunday – December 7th
Time: 10.00 am – 12 noon
Where: Fawkner Park – South Yarra (Armadale Road entrance), Melbourne, Australia
Friendly, non-competitive push hands (tui shou) practice and play for anyone – old, young, beginners, masters.
Team up with someone and discuss what you'd like to do – and what you'd not like to do!
Ten minute exchanges timed by a bell – but you can rest as well!
Learn, share and enjoy.
All welcomed.